Thursday, March 26th, 2009
---
4:02 pm
- Lost In Austen.
Has anyone else seen the miniseries Lost in Austen? I'm just not sure what I think of it. I've watched the first two episodes so far. Amanda Price grates on me a bit. She's supposed to be all concerned about keeping to the plot of the book, but keeps interjecting her modern speech, manners and eye liner!

I'd like to know what others though of it.

current mood:
inquisitive
Monday, December 8th, 2008
---
10:35 am
- Monday Morning Meme

Stolen from
doctor_k_ After watching Luhrmann's Australia last night, this seems a fitting exercise.



(

Oz MemeCollapse

)






current mood:
apathetic
Friday, December 5th, 2008
---
12:51 pm
- Does anyone have...
A 56k Dialup modem they don't want? I need internet access at home for one month and I'm not going to fork out $200 for a usb modem or get a broadband plan. Hello UWA free dialup again!
Saturday, November 8th, 2008
---
3:00 pm
- Gift suggestions.
A few people have asked me what I want for my birthday. Do not feel any obligation to buy a present at all, just come to my party and celebrate with me!



(

Presents!Collapse

)




current mood:
tired
Tuesday, November 4th, 2008
---
3:50 pm
1:26 pm
- The Melbourne Cup.
I put my $5 bets on Profound Beauty and Mad Rush. I LOST!

I put two dollars on my office sweeps! I got C'est La Guerre. I came 3rd!

Total betting cost: $12.00

Total Winnings: $6.00

Oh well! The race was exciting and I got to drink champagne, eat smoked salmon and bree!

Did anyone win?


I Melbourne Cup always makes me think of Audrey Hepburn in My Fair Lady. Oh to be so glamourous!
Monday, November 3rd, 2008
---
11:59 am
- Who will be the next Dr Who?
Here are the contenders.

What do you think?

My favourite out of these is the to-die-for-gorgeous James McAvoy, but I think Russell Tovey could have potential.

current mood:
busy
Wednesday, October 22nd, 2008
---
10:15 am
- Feeling Dandy
I've been listening to the Dandy Warhols at work and suddenly I want to go to their concert next week! I seriously can't afford to go, however, and I do think it price is bit much for the Dandy's. Apparently they are not so good to watch live.

current mood:
bored
Saturday, October 11th, 2008
---
3:11 pm
- Meme-ing the day away...
I was just checking my email and received the latest Borders newsletter. They've just published their top 50 music albums and top 50 movies. Apparently they've made this list from the votes of Borders customers. I was wondering how accurate it is in relation to my flist. It's a fairly generic list, but I am surprised at where Pet Sounds got ranked!

1. Bold the titles you own.
2. Underline the titles you like and want to own.
3. Italicise the titles you haven't seen/listened to.
4. Put an asterisk next to your favourites.



(

Borders top 50 music albumsCollapse

)




(

Borders top 50 MoviesCollapse

)




current mood:
bored
Monday, October 6th, 2008
---
8:49 pm
- The Prom!
Everyone should go to The Prom with Elizabeth, me and Jeremy!

Love Helen.

current mood:
excited
Friday, September 26th, 2008
---
5:48 pm
- Leibovitz does Disney.
Tuesday, August 26th, 2008
---
11:13 pm
- Question.
Anyone thinking of going to the Guild Ball this year?

EDIT: The confirmed date for the UWA Guild Ball is Friday the 24th of October.
Thursday, August 7th, 2008
---
8:52 am
- Shakespeare's 'first' theatre found.
Wednesday, July 16th, 2008
---
12:14 pm
- Meme - In Love with Fictional Men. Who do you love?
I just joined this group on Facebook, but I am in love with loads of fictional men because I am a sad fangirl. I thought I'd post the list of fictional men that people are in love with, because some of them are rather odd. Bold the ones you like, bold and underline the ones you totally love Italicise the ones you've never heard of.



current mood:
Fangirling
Sunday, June 29th, 2008
---
10:00 pm
- The Stolen Earth
Russell T Davies YOU ARE MY PERSONAL GOD!

OMFG! CLIFFHANGER!!!!! I SCREAMED OUT LOUD!


This is going to be a long week....



SQUEEEEEEEEE

current mood:
ecstatic
Thursday, June 26th, 2008
---
11:17 am
- Top 100 Books meme
It's my day off and I'm procrastinating ringing up the mechanic to get my car serviced.



current mood:
cold
Tuesday, April 29th, 2008
---
10:11 pm
- Tupperware party afternoon tea.
Hi everyone,

Well it's finally going ahead now! Desiree will be hosting a lovely tupperware party and afternoon tea at my house This Sunday the 4th of May from 2.30pm. Come along, hang out, chat, drink tea and eat cake.

If you want to come, and don't know my new address, just email me. misskittylix at gmail dot com.

Ta!

current mood:
tired
Monday, April 28th, 2008
---
7:28 pm
- Awwww, my little nephews are growing up. :D
Here's the latest pictures of my darling nephews who live in Melbourne with my brother and his fiancé. I can't wait to go to Melbourne later this year so I can spend more time with them.




(

The cutest kids ever!Collapse

)



current mood:
cheerful
Wednesday, April 23rd, 2008
---
12:38 pm
- Please Help! Good home needed for a lovely cat.
My friend Angela is in an awful predicament. Her landlord is making her get rid of her cat. According to the landlord someone in the flats complained about him (as if) and now wants her to get rid of the cat or move out. With rentals being awfully hard to find, not to mention expensive, poor Pooka is now looking for someone to take him.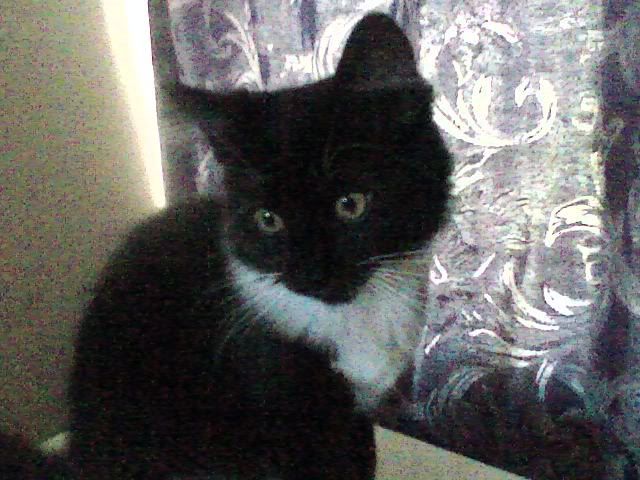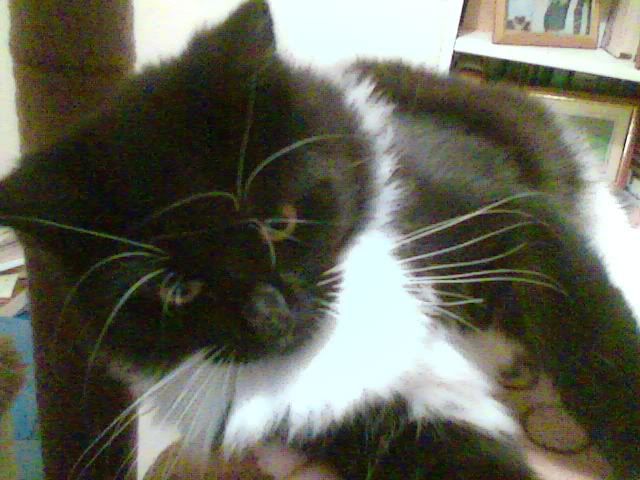 If you know of anyone who would like a neutered 5 1/2 month old male cat who likes the outdoors but comes in at night, please comment here or email angela direct: angelamitchel25 at hotmail dot com.

current mood:
hopeful
Sunday, February 17th, 2008
---
5:42 pm
- Things we are selling and giving away.
One really nice wrought iron and wood queen size bed frame - FREE! This frame is being discarded by Adam's mum and so needs to be collected from Doubleview.

One small older tv with remote control - FREE!

One grey vinyl (but nice and in good condition) lounge suite. Includes a two seater couch and two fairly comfy armchairs. - $50

big tall black CD rack - FREE! This is also from Doubleview.

current mood:
cheerful